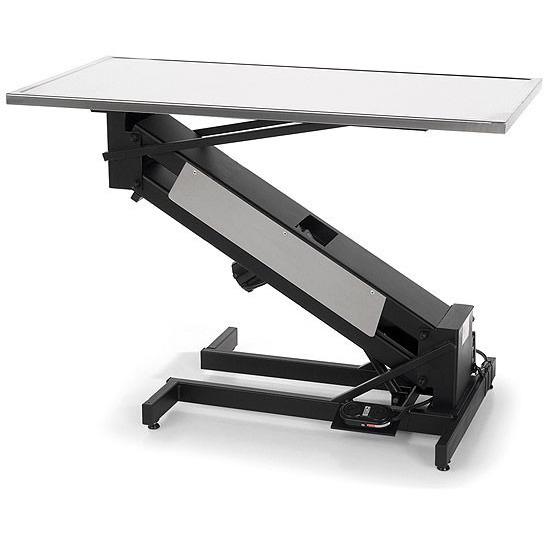 Electric Veterinary Exam Table | Extra Low Height
SKU: TEZ-9095E-44
Product Weight : 260.0 lb
Features
Exam tabletop fabricated with 16 gauge, high quality 304 grade stainless steel.
Top measures 22″W x 58″L with raised edge to prevent dripping.
The base is double powder coated and will stand up to cleaning and disinfecting solutions.
Foot operated pedals on both sides, raises from 13.5" to 41" high.
Smooth lowering and lifting function.
Capacity up to 300 lbs.
A stationary table with plug-in electric operation.
Duplex electric outlet on base.
Adjustable leveling feet on base.
Table weight is 295 lb.
Made in the USA.
PetLift Electric Veterinary Exam Table | Extra Low Height is a great exam table with an electric operation for graceful raising and lowering of the patient. This high-quality table boasts a smooth electric operation that lowers to 13.5″ and raises to 41" high. Easy on your back!
Large dogs walk right on. For added versatility, we have added a convenient duplex electric outlet on the base, for easy plug-in of electrically operated implements. This table has a sleek, slimline look and a powerful lift capacity. Perfect for small exam rooms.
Petlift warrants to original buyer its products to be made of the finest quality materials free from defects in material or workmanship under normal use and to perform the service for which they were intended in a thoroughly reliable and efficient manner, when properly installed, maintained and cared for.

• Stainless steel animal baths and wet tables: 10 Years Warranty for leakage and rust.
• Stainless steel Grooming tables: 10 Years Warranty for rust.
• Table frames on all electric and hydraulics: 5 Year Warranty
• Table tops: 1 Year Warranty,
• Hydraulic pumps and electric components: 2 Year Warranty
• Cages: 2 Year Warranty