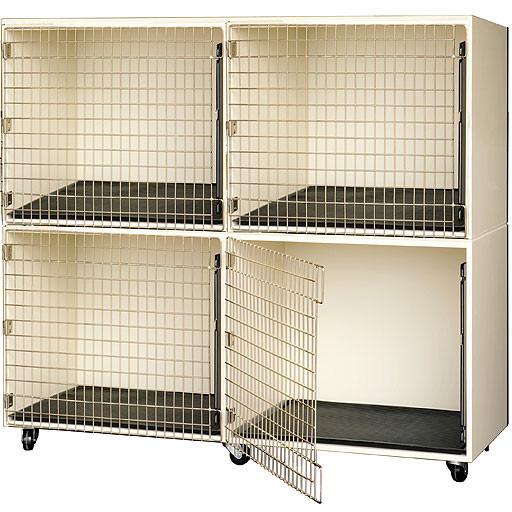 Professional Veterinary & Grooming Cage Banks - 4 Units
SKU: CLA6-4C
Product Weight : 325.0 lb
Features
Heavy duty welded hinges.
Removable doors for cleaning.
All stainless steel hardware throughout cages.
Advanced latching system allows for single-handed opening and closing.
Heavy duty 1/2" thick latch for maximum security.
Lock hole.
Fully-laminated inside, outside, tops and backs.
Stainless steel moldings, fully lined bottom, sides and backs for easy cleaning.
Double walls between all cages provide 1½" of solid construction.
Large 4" heavy duty casters rotate 360°.
All Petlift cages are constructed with ¾" moisture-resistant plywood with high-pressure laminate inside and out. All are furnished on mobile platforms with heavy-duty 4" casters. Tray liners are sold separately. 
*NOTE ON SHIPPING: PetLift products currently take an average of 3-4 weeks for fabrication before shipment. For urgent orders, please Contact Us to discuss your options.
4 cage units

6' Cage Assembly: 4 Laminated Cages - 2 Rows.
Dimensions w/ Casters: 72" W x 64" H x 24" D.
Two rows of 2 cages: 36" W x 30" H x 24" D.
Petlift warrants to original buyer its products to be made of the finest quality materials free from defects in material or workmanship under normal use and to perform the service for which they were intended in a thoroughly reliable and efficient manner, when properly installed, maintained and cared for.

• Stainless steel animal baths and wet tables: 10 Years Warranty for leakage and rust.
• Stainless steel Grooming tables: 10 Years Warranty for rust.
• Table frames on all electric and hydraulics: 5 Year Warranty
• Table tops: 1 Year Warranty,
• Hydraulic pumps and electric components: 2 Year Warranty
• Cages: 2 Year Warranty