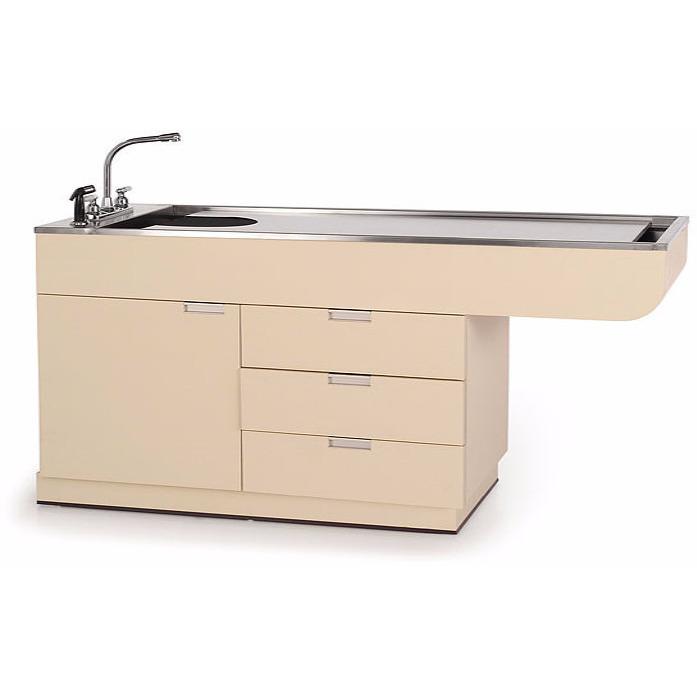 Veterinary Wet Table Stainless Steel Top & Storage | Multi Purpose | TWC-750-60 - Single Level
SKU: TWC-750-60-RH
Product Weight : 350.01 lb
Features
High quality 304 grade, 16-gauge stainless steel sink/liner.
Stainless steel prep rack sits on neat inner lip and provides for easy clean up and sanitizing.
Constructed with solid high quality plywood and covered with high pressure laminate.
Overhang knee space for added convenience and comfort for sitting during procedures.
No assembly required! Product is shipped fully assembled in crate and ready to install!
Plumbing fixtures can be purchased separately.
Some models include a bi-level floor providing a 15" deep bathing end and 6" deep procedure end.
VetLine Wet Tables provide flexibility for all your daily surgical and dental procedures. The heavy-duty liners come available 6" to 15" deep, depending on the model.
All Tables are 24" wide and 36" high, varying length depending on the selected model number. All models have prep racks and radius corners to eliminate all seams and welds. Unit includes full extension drawers and/or full cabinet for storage, depending on the model selected. All models are made with the highest quality heavy-duty 16 gauge stainless steel liner.
*Note: Faucet Package and Prep Rack Cover not included.
Model Options:
Option: TWC-750-60 - Single Level
Levels: Single, 6"Deep
Weight: 350 lb
Table Top Dimensions: 60"L x 24"W x 36"H x 6"D
Additional Feature: 3 drawers and 1 cabinet.
Petlift warrants to original buyer its products to be made of the finest quality materials free from defects in material or workmanship under normal use and to perform the service for which they were intended in a thoroughly reliable and efficient manner, when properly installed, maintained and cared for.

• Stainless steel animal baths and wet tables: 10 Years Warranty for leakage and rust.
• Stainless steel Grooming tables: 10 Years Warranty for rust.
• Table frames on all electric and hydraulics: 5 Year Warranty
• Table tops: 1 Year Warranty,
• Hydraulic pumps and electric components: 2 Year Warranty
• Cages: 2 Year Warranty