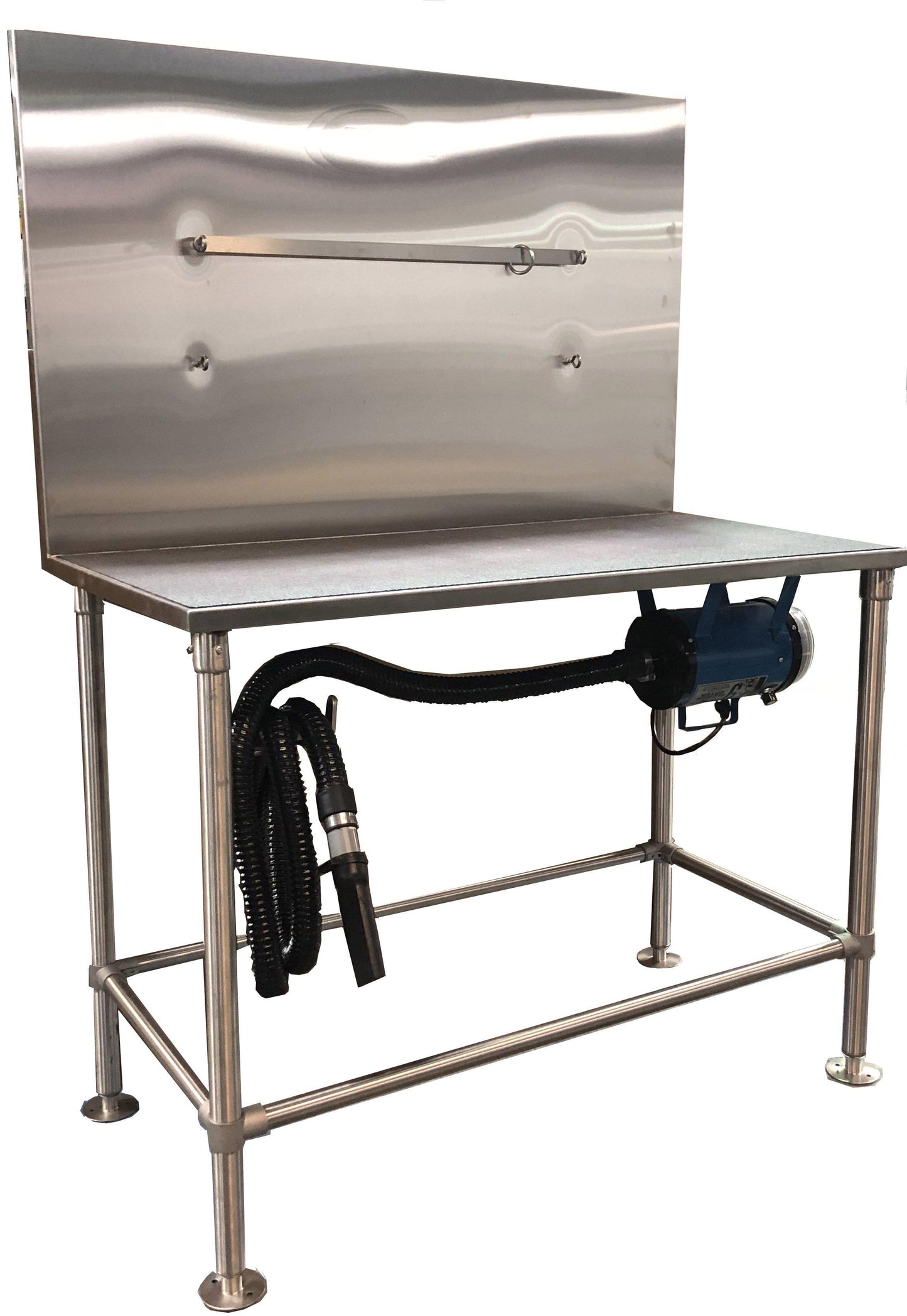 Stainless Steel Drying Table with optional integrated K-9 II Dog Grooming Dryer
SKU: TDS-48WD
Product Weight : 300.0 lb
Features
Fully Welded Stainless Steel Construction.
Hygienic and Easy to Clean/Maintain.
Natural Rubber, Non-Slip Table Top Surface.
Safety Restraints and Slide Ring.
Optional Integrated Electric Cleaner Company Variable.
PetLift Stainless Steel Pet Grooming Table Drying Station with optional integrated K-9 II Variable Speed Dog Grooming Dryer 
A grooming & drying table designed for the ultimate in durability, convenience, and safety! 
The Petlift stainless steel drying table is a professional pet drying and grooming station that is both efficient and comfortable to use. Available with the optional integrated bottom-mount K-9 II Dog Grooming Dryer from Electric Cleaner Company, the Petlift drying table creates a convenient station to dry and groom pets in a single area. The table is designed for the ultimate durability, convenience, and safety. Made of fully welded stainless steel construction, it is both hygienic and easy to clean.  The natural rubber, non-slip table top surface and safety restraints make for a safe and comfortable environment for any size dog (or cat), large or small. 
The optional Electric Cleaner Company K-9 Fluffer Dryer is a heavy duty dryer with variable speed. The K-9 II dryer is mounted right under the table for convenient operation and is out of the way when not in use. The variable speed gives you complete control over airflow. Airflow can be varied and customized from 0 to 240 CFM to be used on large to small dogs and any thickness of coat. The variable speed switch allows high velocity to blow water out and low velocity for those delicate details.
Model:
TDS-48WD
48" Stainless Steel Drying Table with Bottom Mount Integrated K-9 II Variable Speed Dryer
Speed K-9 Fluffer Heavy-Duty Dryer:

- Both Flat and Round Blower Tips.
- 10' Hose.
- Variable Speed adjusts to dry from 0 to 240 CFM.
- Variable switch for high velocity and low velocity.
- Large work surface area 24" x 48".
- 10-year Table Warranty against Rust.

Specifications:

- Table Top: 24" x 48"
- 36" Height (can be lowered or customized upon request)
- Stainless Steel Construction
Petlift warrants to original buyer its products to be made of the finest quality materials free from defects in material or workmanship under normal use and to perform the service for which they were intended in a thoroughly reliable and efficient manner, when properly installed, maintained and cared for.

• Stainless steel animal baths and wet tables: 10 Years Warranty for leakage and rust.
• Stainless steel Grooming tables: 10 Years Warranty for rust.
• Table frames on all electric and hydraulics: 5 Year Warranty
• Table tops: 1 Year Warranty,
• Hydraulic pumps and electric components: 2 Year Warranty
• Cages: 2 Year Warranty