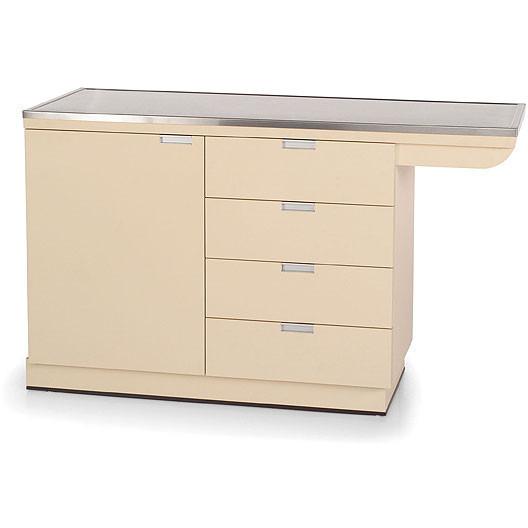 Omni Veterinary Exam Table & Storage | Extended Top (Right-Side) Top Table - 44" x 22"
SKU: TEC-400-44SS
Product Weight : 420.0 lb
Features
Exam tabletop fabricated with 16 gauge, high quality 304 grade stainless steel.
Top measures 22"W x 44"L or 24"W x 58"L.
Raised edge to prevent dripping.
Choose a extended top for knee space or larger cabinetry space.
Includes 3-4 storage drawers and 1 large cabinet with adjustable shelf.
Formerly known as the Omni exam table, the newly rebranded VetLine Cabinet Series are stationary Veterinary Exam Tables with storage cabinets are made of high quality plywood with a durable pressure treated laminate exterior. The exam top is made of 16 gauge stainless steel, has raised edges, and measures 22" W x 44"L
This VetLine Exam Table has 3 or 4 extension drawers and a spacious cabinet.  The spacious side cabinet comes with an adjustable shelf, and the interior of the cabinet is coated with moisture and stain-resistant melamine.
Extended Top models feature a large knee space, where the top overhangs 13.75" to the right. This creates a 30.50" tall, comfortable knee space to allow you to sit while working.
Petlift warrants to original buyer its products to be made of the finest quality materials free from defects in material or workmanship under normal use and to perform the service for which they were intended in a thoroughly reliable and efficient manner, when properly installed, maintained and cared for.

• Stainless steel animal baths and wet tables: 10 Years Warranty for leakage and rust.
• Stainless steel Grooming tables: 10 Years Warranty for rust.
• Table frames on all electric and hydraulics: 5 Year Warranty
• Table tops: 1 Year Warranty,
• Hydraulic pumps and electric components: 2 Year Warranty
• Cages: 2 Year Warranty