MasterLift Low-Rider Electric Grooming Table - Fixed Top
SKU: TGZ-8080E
Product Weight : 250.0 lb
Features
Motor actuator provides smooth, quiet lifting and lowering action.
Provides 375 lbs. of lifting power.
Floor pedals are located on both sides of the table.
Actuator system is plug-and-play for easy serviceability.
Table frame is constructed of 7 gauge heavy duty, double powder-coated steel.
Table top is made of moisture-resistant marine plywood supported by steel cross bars (except the lighted option, which is made from plexiglass).
Leveling feet on legs.
Duplex outlet mounted on the base frame.
The "low rider" height (going as low as 12") reduces stress on animals by allowing them to walk on and off easily while also reducing back pain in handlers by removing the need to bend down and pick up the animals.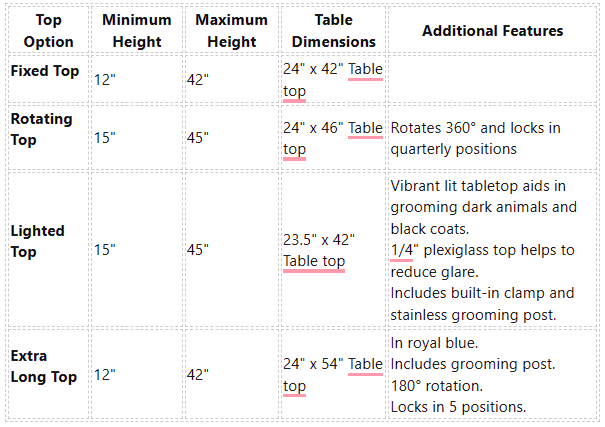 Petlift warrants to original buyer its products to be made of the finest quality materials free from defects in material or workmanship under normal use and to perform the service for which they were intended in a thoroughly reliable and efficient manner, when properly installed, maintained and cared for.

• Stainless steel animal baths and wet tables: 10 Years Warranty for leakage and rust.
• Stainless steel Grooming tables: 10 Years Warranty for rust.
• Table frames on all electric and hydraulics: 5 Year Warranty
• Table tops: 1 Year Warranty,
• Hydraulic pumps and electric components: 2 Year Warranty
• Cages: 2 Year Warranty